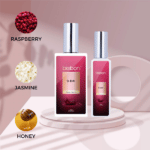 Biebon So Rich For Women perfume
Biebon So Rich For Women perfume
Biebon So Rich is fresh, floraland woody, like a nectar of voluptuous flowers, trailing delicately but still very represent. Powerfully seductive, the sparkle of bitter orange with a touch of raspberry reveals the first breath. A lethal weapon of heady orange blossom slips out of its sheath. Its narcotic sweetness bewitches and grabs all attention. ============================================== Disclaimer: Lady Million is a trademark of Paco Rabanne. Biebon products competes with Lady Million . It does not use the Lady Million fragrance and is not associated in any way with Lady Million or Paco Rabanne.
Top Note : Raspberry – A sweet fruity note with a strong rose facet.
Heart Note : Jasmine – weet, white floral, opulent, can be more indolic or greener and fresher
Base Note : Honey – A sweet, gourmand scent with animalic and powdery floral nuances.
+Know your fragrance families. Learn More
+Complimentary Benefits :
Enjoy complimentary standard delivery with all online orders.
+Designated Box :
A designated black box with tied box that suitable for a gift.
+What else you need to know :
Wish card for birthday or anniversary wishes for free. Please hit 'Add gift wrap?' button before you check out.
Thank You.