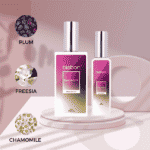 Biebon Fabulous For Women perfume
Biebon Fabulous For Women perfume
Biebon Fabulous is a combination of melon, plum and freesia makes you feel utterly irresistible and seductive. This scent a good, refreshing , young and girly that give energetic all day long! ============================================== Disclaimer: Pure Seduction is a trademark of Victoria's Secret . Biebon products competes with Pure Seduction . It does not use the Pure Seduction fragrance and is not associated in any way with Pure Seduction or Victoria's Secret .
Top Note: Plum – A sensual fruity fragrance.
Heart Note : Freesia – A fresh spicy powdery floral note.
Base note : Chamomile – An aromatic herbal fragrance with green and spicy nuances.
+Know your fragrance families. Learn More
+Complimentary Benefits :
Enjoy complimentary standard delivery with all online orders.
+Designated Box :
A designated black box with tied box that suitable for a gift.
+What else you need to know :
Wish card for birthday or anniversary wishes for free. Please hit 'Add gift wrap?' button before you check out.
Thank You.
Best
Bau yg sgt wangi n tahan lama baunya...nnt boleh repeat lg...insha Allah
Sweet fruity
Wangi sangat...bau tahan lama..seronok pakai bau melekat..🥰🥰
Pure seduction.... the best
Wangi sgt perfume ni... rasa nak beli lagi