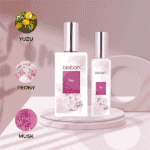 Biebon Vivy For Women perfume
Biebon Vivy For Women perfume
Light, bright floral that's feminine and inoffensive. Sometimes that's what you want! Is this a mysterious, complex fragrance? No, and that's fine. To me this is a great work fragrance. Smells pretty and polished but no one is going to complain to your office manager that our perfume is giving them a headache. Choose Biebon Vivy . ============================================== Disclaimer: Bright Crystal is a trademark of Versace. Biebon products competes with Bright Crystal . It does not use the Bright Crystal fragrance and is not associated in any way with Bright Crystal or Versace.
Top Note : Yuzu – A sweet and very bitter, unique citrus fragrance, with a terpenic nuance.
Heart Note : Peony – A fresh floral fantasy note.
Base Note : Musky – an attractive and sexy scent.
+Know your fragrance families. Learn More
+Complimentary Benefits :
Enjoy complimentary standard delivery with all online orders.
+Designated Box :
A designated black box with tied box that suitable for a gift.
+What else you need to know :
Wish card for birthday or anniversary wishes for free. Please hit 'Add gift wrap?' button before you check out.
Thank You.
Box cantik sgt, terima kasih