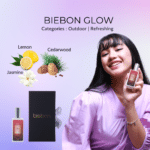 Biebon Glow For Women perfume
Biebon Glow For Women perfume
Biebon Glow is a casual and breezy, sparkling fruity-floral scent that evokes the spirit of the Sicilian summer. Mouth-watering and fresh notes of lime and cedar are bringing an image of the South woods on the seashore. ============================================== Disclaimer: Light Blue is a trademark of Dolce&Gabbana . Biebon products competes with Light Blue . It does not use the Light Blue fragrance and is not associated in any way with Light Blue or Dolce&Gabbana .
Top Note : Lemon – astringent, sour, sweet undertone, aromatic nuance, bright, cheerful & vibrant.
Heart Note : Bamboo – A woody aromatic fragrance.
Base Note : Cedar – An soft woody note
+Know your fragrance families. Learn More
+Complimentary Benefits :
Enjoy complimentary standard delivery with all online orders.
+Designated Box :
A designated black box with tied box that suitable for a gift.
+What else you need to know :
Wish card for birthday or anniversary wishes for free. Please hit 'Add gift wrap?' button before you check out.
Thank You.
Biebon Glow Feedback
Bau sangat soft & sangat calming
Sooooo gooood
Truly like it. Sooo goood
LIGHT BLUE
THE SMELL IS VERY FRAGRANT AND DURABLE
Bau lemon segar
Bila bau kat botol, memang bau real lemon. Fresh. Saya suka bau ni dan mungkin akan consider beli yang botol besar pula. Tapi, banyak lagi yang saya kena cuba.