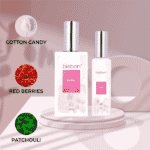 Biebon Goddess For Women perfume
Biebon Goddess For Women perfume
Biebon Goddess is a fusion of three delicious whirlwinds of flavor. The fruity alliance of litchi and currants. A rose thorn accord with the pomarose molecule, and the mixture of Chantilly vanilla and patchouli. It is recognizable by its intense fruity rose accord that has plum, apple and raisins nuances. ============================================== Disclaimer: Angel is a trademark of Thierry Mugler. Biebon products competes with Angel. It does not use the Angel fragrance and is not associated in any way with Angel or Thierry Mugler.
Top Note : Cotton Candy – sweet sugary sticky and powdery.
Heart Note : Red Berries – A general name for tangy and sweet red fruit notes.
Base Note : Patchouli – Sweet, dark, with an earthy, woody edge.
+Know your fragrance families. Learn More
+Complimentary Benefits :
Enjoy complimentary standard delivery with all online orders.
+Designated Box :
A designated black box with tied box that suitable for a gift.
+What else you need to know :
Wish card for birthday or anniversary wishes for free. Please hit 'Add gift wrap?' button before you check out.
Thank You.
The smell quite heavy,I like vanilla scent better
Ggoddess
Smells good,strong (powdery) but nice. Almost 2 day can smells the perfume.
Powdery
Memang bau powdery dia agak kuat. Sweet tu ada tapi tak sekuat powdery tu. Sedap la jugak tapi saya nak try yang lain kalau ada offer lagi.. Thanks.