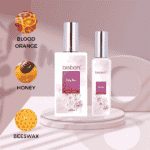 Biebon Only You For Women perfume
Biebon Only You For Women perfume
Biebon Only You – It designed to break all clichés, offering something new and modern, and at the same time powerful and elegant. The key notes of the composition are blood orange, honey, patchouli and gardenia, which united share a creamy, earthy and balsamic gourmet effect, with warm, deep, woody undertones. ============================================== Disclaimer: Scandal is a trademark of Jean Paul Gaultier. Biebon products competes with Scandal. It does not use the Scandal fragrance and is not associated in any way with Scandal or Jean Paul Gaultier.
Top Note : Blood Orange – It is a mutation of the sweet orange, very sweet and juicy, with a sweet taste and smell.
Heart Note : Honey – A sweet, gourmand scent with animalic and powdery floral nuances.
Base Note : Beeswax – A deep aromatic amber fragrance with an intense honey nuance.
+Know your fragrance families. Learn More
+Complimentary Benefits :
Enjoy complimentary standard delivery with all online orders.
+Designated Box :
A designated black box with tied box that suitable for a gift.
+What else you need to know :
Wish card for birthday or anniversary wishes for free. Please hit 'Add gift wrap?' button before you check out.
Thank You.
Simply love teh scent
The scent of Only You as expected. Bau woody mula2 then bau manis dihujung dan kekal agak lama especially pakai waktu malam. Love it. Oh ya, kotak perfume exclusive. Great!
Unicorn, London& only you
Alhamdulillah,best perfume I ever had. Long lasting & smells really good
Beibon wangi terbaik
Kita suka beibon..wangian yang menarik dan botol pon comel² gitu...