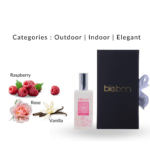 Biebon Be You For Women perfume
Biebon Be You For Women perfume
Biebon Be You – An olfactive embodiment of authentic modern-day love. ============================================== Disclaimer: Emporio Armani Because It's You is a trademark of Giorgio Armani . Biebon products competes with Emporio Armani Because It's You . It does not use the Emporio Armani Because It's You fragrance and is not associated in any way with Desire Blue or Giorgio Armani.
Top Note : Raspberry – A sweet fruity note with a strong rose facet.
Heart Note: Rose – lemony fresh with various nuances of powder, wood notes or fruit, feminine, clean, intensely romantic.
Base Note : Vanilla – Sweet, cozy and comforting scent.
+Know your fragrance families. Learn More
+Complimentary Benefits :
Enjoy complimentary standard delivery with all online orders.
+Designated Box :
A designated black box with tied box that suitable for a gift.
+What else you need to know :
Wish card for birthday or anniversary wishes for free. Please hit 'Add gift wrap?' button before you check out.
Thank You.
Biebon Be You For Women perfume
Biebon be you
Saya suka.bau dia yg mmg sgt wangi... Suka sangat
Pertama kali cium baunya, saya dah suka..
BIEBON Men Vigorous
Love how the scent is very expensive on par with top international brands and the price is very flexibly affordable. Overall well worth it.
Be You
I am in love with the product. Sweet and fresh. Most important it lasts long. This is my 6th purchase and am going to add more to the collection. Tq.
Biebon Be You inspired by Giorgio Armani Because Its You