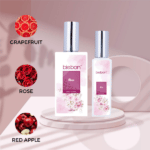 Biebon Bloss For Women perfume
Biebon Bloss For Women perfume
Biebon Bloss is composed of luminous accords of grapefruit mixed with rose and jasmine petals. This is a flirty, joyful and ultimate scent of spring, freshness and energy. ============================================== Disclaimer: DKNY Be Delicious Fresh Blossom is a trademark of Donna Karan. Biebon products competes with DKNY Be Delicious Fresh Blossom . It does not use the DKNY Be Delicious Fresh Blossom fragrance and is not associated in any way with DKNY Be Delicious Fresh Blossom or Donna Karan.
Top Note : Grapefruit – A bitter aromatic citrus scent.
Heart Note : Rose – feminine, clean, intensely romantic
Base Note : Red Apple – It is a fresh and sweet synthetic fruity note.
+Know your fragrance families. Learn More
+Complimentary Benefits :
Enjoy complimentary standard delivery with all online orders.
+Designated Box :
A designated black box with tied box that suitable for a gift.
+What else you need to know :
Wish card for birthday or anniversary wishes for free. Please hit 'Add gift wrap?' button before you check out.
Thank You.
Armada / Bloss
Bau ok..tahan lama, bau Armada maybe 95% sama dengan Code, still ada bau yang kurang, tak pasti apa, maybe bau base note dia.. Bloss maybe 90% sama dengan Fresh Blossom. Anyway, bau still sedap, orang takkan perasan pakai inspired. yang free Citrus & Woody by Biebon tu bagi saya agak kureng sikit, maybe too woody. Cedarwood tu macam kuat. saya prefer sandalwood/leather punya bau.