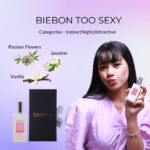 Biebon Too Sexy For Women perfume
Biebon Too Sexy For Women perfume
Biebon Too Sexy is a sunny, woodsy, oriental fragrance with gourmand nuances. The fragrance features passionflower, which creates both a gentle and a passionate feminine aura; the magical product of orchid–vanilla-smells warm and creamy on skin; and vetiver surrounded with white flowers and jasmine Sambac gives a sensual and deep sensation. ============================================== Disclaimer: Hypnôse is a trademark of Lancome. Biebon products competes with Hypnôse . It does not use the Hypnôse fragrance and is not associated in any way with Hypnôse or Lancome.
Top Note : Passion Flower – A sweet tropical fragrance, reminiscent of grapes.
Heart Note : Jasmine – weet, white floral, opulent, can be more indolic or greener and fresher
Base Note : Vanilla – Sweet, cozy and comforting scent.
+Know your fragrance families. Learn More
+Complimentary Benefits :
Enjoy complimentary standard delivery with all online orders.
+Designated Box :
A designated black box with tied box that suitable for a gift.
+What else you need to know :
Wish card for birthday or anniversary wishes for free. Please hit 'Add gift wrap?' button before you check out.
Thank You.
Biebon Too Sexy (Hypnose)
Biebon Too Sexy (Hypnose)
BIEBON TOO SEXY
Beli sebab ramai review cakap wangi but for me bau keras, tak sweet. Spray pergi office, staff tegur bau ubat...haha. Next time i tak repeat dah perfume ni. Biasala citarasa orang lain-lain.
Bau best
Suka bau Biebon Too Sexy. Best dan tahan lama. Bau feminin. Untuk yg dah berkahwin, wajib try👍
Good product
Nice smell and very good service . Tq