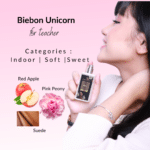 Biebon Unicorn For Women perfume
Biebon Unicorn For Women perfume
Engage your unlimited charm and effortless grace with Biebon Unicorn, a captivating fragrance. This majestic scent blends floral, fruity and powdery accords for a delectable and sophisticated aroma that works perfectly for spring and summer ensembles. ============================================== Disclaimer : Peony & Blush Suede is a trademark of Jo Malone London. Biebon products competes with Peony & Blush Suede. It does not use the Peony & Blush Suede fragrance and is not associated in any way with Peony & Blush Suede or Jo Malone London.
Top Note : Red Apple – It is a fresh and sweet synthetic fruity note.
Heart Note : Peony – A fresh floral fantasy note
Base Note : Suede – A synthetic note which replicates the soft, pliable, sensuous feel of suede on the skin. Soft, powdery, musky
+Know your fragrance families. Learn More
+Complimentary Benefits :
Enjoy complimentary standard delivery with all online orders.
+Designated Box :
A designated black box with tied box that suitable for a gift.
+What else you need to know :
Wish card for birthday or anniversary wishes for free. Please hit 'Add gift wrap?' button before you check out.
Thank You.
Biebon unicorn
Sweet smelling like original
Biebon Unicorn (Peony & Blush Suede)
For her by biebon Dan unicorn
Memang terbaik
Haruman Yang menyegarkan
Terima kasih
bieborn unicorn
bau yg sgt soft & sweet... kawan2 tegur pakai perfume apa
Biebon Unicorn (Peony & Blush Suede)