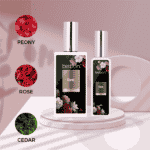 Biebon Charms For Women perfume
Biebon Charms For Women perfume
Biebon Charms is feminine in a rather non-traditional, not all-out-girly way. Its accords expertly play against each other and they seduce the audience by being both elegant and daring at the same time. The fragrance is very versatile, it is intended for everyday use and is more than suitable for becoming someone's unique signature scent. ============================================== Disclaimer: Chloe Eau de Parfum is a trademark of Chloé. Biebon products competes with Chloe Eau de Parfum. It does not use the Chloe Eau de Parfum fragrance and is not associated in any way with Chloe Eau de Parfum or Chloé.
Top Note : Peony – A fresh floral fantasy note. It can't be extracted from peony flowers.
Heart Note : Rose – feminine, clean and intensely romantic.
Base Note : Cedar – An soft woody note scent.
+Know your fragrance families. Learn More
+Complimentary Benefits :
Enjoy complimentary standard delivery with all online orders.
+Designated Box :
A designated black box with tied box that suitable for a gift.
+What else you need to know :
Wish card for birthday or anniversary wishes for free. Please hit 'Add gift wrap?' button before you check out.
Thank You.