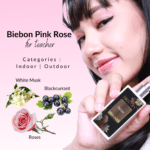 Biebon Pink Rose For Women perfume
Biebon Pink Rose For Women perfume
Biebon Pink Rose is a sparkling floral fragrance, contains May rose from Grasse, with two additional types of roses, iris, cedar and spices. ============================================== Disclaimer: Rose des Vents is a trademark of Louis Vuitton. Biebon products competes with Rose des Vents . It does not use the Rose des Vents fragrance and is not associated in any way with Rose des Vents or Louis Vuitton.
Top Note : Peach – A very popular fruity note, fleshy, sweet, nectarous and powdery.
Heart Note : Flowers – feminine, clean and intensely romantic.
Base Note : White Musk- an attractive and sexy scent.
+Know your fragrance families. Learn More
+Complimentary Benefits :
Enjoy complimentary standard delivery with all online orders.
+Designated Box :
A designated black box with tied box that suitable for a gift.
+What else you need to know :
Wish card for birthday or anniversary wishes for free. Please hit 'Add gift wrap?' button before you check out.
Thank You.
Biebon Pink Rose inspired by LV Rose De VEnts
Rose
Ade bau mcm perfume arab cket..xde oun bau rose.. Sorry.. Not my cup of tea..
Pink rose
Wangi sangat, bau pun tahan lama.. nnt nk beli botol besar pula :)
Saya sensitif dgn bau perfume, tp bau ni sy boleh terima..