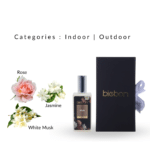 Biebon Intimate For Women perfume
Biebon Intimate For Women perfume
Biebon Intimate is a vanilla and musk add a finishing touch of fleshy, sweet petals, turning Biebon Intimate into a carefully pieced together floral that is unlike any in nature. Biebon Intimate is a really comforting fragrance, without being overly warm and heavy. ============================================== Disclaimer: Flower by Kenzo is a trademark of Kenzo. Biebon products competes with Flower by Kenzo. It does not use the Flower by Kenzo fragrance and is not associated in any way with Flower by Kenzo or Kenzo.
Top Note: Rose (feminine, clean and intensely romantic)
Middle Note: Violet (A sweet and powdery, airy and dewy floral note.)
Base Note: Vanilla (sweet, cozy, comforting)
+Know your fragrance families. Learn More
+Complimentary Benefits :
Enjoy complimentary standard delivery with all online orders.
+Designated Box :
A designated black box with tied box that suitable for a gift.
+What else you need to know :
Wish card for birthday or anniversary wishes for free. Please hit 'Add gift wrap?' button before you check out.
Thank You.
Biebon Intimate inspired by Kenzo Flower
Just what I needed!
The scent is just perfect! Matches the original but lasts longer. Perfect for a long work day.
Biebon Intimate (Flower)
Saya beli yang kecil dulu sebab nak cuba dan Biebon memang tak mengecewakan. Baunya sama seperti original. Minyak wangi ni memang tahan lama. Yang menarik, harganya mampu milik. Saya pasti akan beli lagi! Biebon terbaik!
Long lasting
Bau dia tahan lama. Sangat wangi dan best..