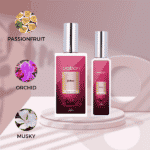 Biebon Seduce For Women perfume
Biebon Seduce For Women perfume
Biebon Seduce is fruity, aromatic and floral fragrance contains notes of purple passion fruit, Shangri-la peony and vanilla orchid. For true, always sexy – the women with an attitude that require attention. ============================================== Disclaimer: Bombshell is a trademark of Victoria's Secret. Biebon products competes with Bombshell . It does not use the Bombshell fragrance and is not associated in any way with Bombshell or Victoria's Secret.
Top Note : Passionfruit -An intense tropical synthetic fruity note.
Heart Note : Orchid – An intense tropical synthetic fruity note.
Base Note : Musky – an attractive and sexy scent
+Know your fragrance families. Learn More
+Complimentary Benefits :
Enjoy complimentary standard delivery with all online orders.
+Designated Box :
A designated black box with tied box that suitable for a gift.
+What else you need to know :
Wish card for birthday or anniversary wishes for free. Please hit 'Add gift wrap?' button before you check out.
Thank You.
Sweet² Gitew
My 2nd bottle. Suitable dengan peminat wangian yg manis². Bau yg longlasting. Love it 😍😍😍
Biebon Seduce inspired by Victoria Secret Bombshell
Wangi
Suka sgt dgn bau dia...tahan lama
Wangi sgtttt
Memang lasting... Akan repeat balik