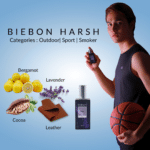 Biebon Harsh For men perfume
Biebon Harsh For men perfume
Biebon Harsh is a woody floral musk fragrance for men. Disclaimer: Dior Homme is a trademark of Dior. Biebon products competes with Dior Homme. It does not use the Dior Homme fragrance and is not associated in any way with Dior Homme or Dior.
Top Note : Lavender – An aromatic floral clean note, with green, fresh spicy, liquorice facets.
Heart Note : Iris – A natural iris (iris root) note is earthy, woody, powdery,
Base Note : Leather – It represent "skin-like" scent to the fragrance and give the unique and mysterious for you.
Learn more about perfume notes here. Learn More
+Complimentary Benefits :
Enjoy complimentary standard delivery with all online orders.
+Designated Box :
A designated black box with tied box that suitable for a gift.
+What else you need to know :
Wish card for birthday or anniversary wishes for free. Please hit 'Add gift wrap?' button before you check out.
Thank You.
>90% Nak Sama Dgn Dior Homme Intense
Worth buying for a budget fragrance that resembles >90% quality of the original one. Will definitely repeat buy in the near future.