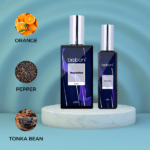 Biebon Magnetism inspired perfume by Chnl Allure Homme Sport perfume
Biebon Magnetism inspired perfume by Chnl Allure Homme Sport perfume
Biebon Magnetism is a fresher and sharper fragrance. The crystal clear beginning introduces note water and it is followed by woodsy and spice character of the fragrance.
Top Note : Orange – A sweet citrus note
Heart Note : Pepper – A hot and bracing note, short-lived and earthy spice
Base Note : Tonka Bean – the scent from green grassy to sweet tobacco almond.
Learn more about perfume notes here. Learn More
>Designated box
Comes with a designated black box for that premium feel to protect your perfume. Suitable for a gift.

>Add a Wish Card
Suprise your loved ones with a Biebon Perfume. Leave your wish notes at checkout and we write them on a wish card for free.
Disclaimer:
Allure Homme is a trademark of Sport Chanel. Biebon products competes with Allure Homme. It does not use the Allure Homme fragrance and is not associated in any way with Allure Homme or Sport Chanel.
Review for Biebon perfume
I had purchase Biebon magnetism, it's really works who working in hot environment.. it's stand 8 hrs in body… really appreciate what we heard from Ads.. tks alot
I love it
really nice and last longer. its really good for sports person. Good products
Dupe charel allure homme sport
Biebon Magnetism (Allure Homme Sport)
Biebon Magnetism (inspired by Allure Homme Sport)
First, I do not get the exclusiveness of the smell, but after a period of times, I really love the smell, even the base note is good, and hopefully I still can get the product after finishing my first bottle. The projection is moderate, but the performance is more than 6 hrs on the skin if I remember it correctly. If you spray on your shirt (maybe 6 sprays), it can last up to 24++ hours or more.
Allure Homme Sport is quite expensive, as we know that many of the Chanel perfumes are really expensive for a designer brand. So, the inspired one which is cheaper can be your choice. Good product by Biebon.