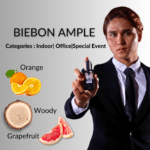 Biebon Ample For men perfume
Biebon Ample For men perfume
Biebon Ample  is a metaphor for materials, a matrix that speaks of territory as well as matter, earth, and roots. Disclaimer: Terre d'Hermes is a trademark of Hermès .Biebon products competes with Terre d'Hermes . It does not use the Terre d'Hermes fragrance and is not associated in any way with Terre d'Hermes or Hermès.
Top note : Orange – A fresh clementine opening scent.
Heart Note : Pepper –  A hot and bracing note, short-lived and earthy spice
Base Note : Vetiver –  it is earthy, woody, green scent
Learn more about perfume notes here. Learn More
+Complimentary Benefits :
Enjoy complimentary standard delivery with all online orders.
+Designated Box :
A designated black box with tied box that suitable for a gift.
+What else you need to know :
Wish card for birthday or anniversary wishes for free. Please hit 'Add gift wrap?' button before you check out.
Thank You.
Biebon Ample (Terre d'Herms)
It is as good as the original. Loving this.
PERFUME TERBAIK SETAKAT NI
Sy peminat perfume dan ade koleksi perfume lebih dari 150 jenis termasuk perfume designer, niche, import, local semua saya dah try.. ikhlas dan jujur saya bagitaw yg Biebon ni antara yang terbaik kualiti dia.. keep it up
85% Nak Sama Dgn Ori
85% nak sama dgn yg ori. Berbaloi dgn harga bajet.
Disyorkan!