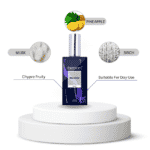 Biebon Alexander inspired by Creed Aventus
Biebon Alexander inspired by Creed Aventus
Biebon Alexander is a provocative, masculine, optimistic fragrance. Disclaimer: Aventus is a trademark of Creed. Biebon products competes with Aventus. It does not use the Aventus fragrance and is not associated in any way with Aventus or Creed.
Top Note : Pineapple _ A fresh and juicy fruity note, fresh and slightly metallic.
Heart Note : Birch – A sweet woody sappy green fragrance.
Base Note : Vanilla – sweet, cozy, comforting, with a pleasing cookie-baking feeling to it.
Learn more about perfume notes here. Learn More
+Complimentary Benefits :
Enjoy complimentary standard delivery with all online orders.
+Designated Box :
A designated black box with tied box that suitable for a gift.
+What else you need to know :
Wish card for birthday or anniversary wishes for free. Please hit 'Add gift wrap?' button before you check out.
Thank You.
Biebon Alexander inspired by Creed Aventus
Bau wangi dan x terlalu menyengat..
Biebon alexander
Perfume best..dh pakai dan mmg bau memang nice sgt..tahan lama..packaging pn cun..
Biebon Alexander
Biebon Alexander The Best. Bau peluh tenggelam dalam wangian Alexander. Lagi peluh lagi awesome. Melekat baunya. Puas hati.