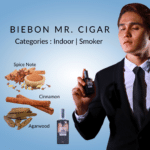 Biebon Mr Cigar For men perfume
Biebon Mr Cigar For men perfume
Biebon Mr. Cigar is a woody spicy fragrance for men. Disclaimer: Tobacco Oud is a trademark of Tom Ford. Biebon products competes with Tobacco Oud . It does not use the Tobacco Oud fragrance and is not associated in any way with Tobacco Oud or Tom Ford.
Top note: Whiskey – Sophisticated, warm and deep, usual in orientals, woody fragrances.
Heart note : Spicy Notes – They can be fresh or warm, sour or sweet.
Base note: Tobacco – A rich, nuanced, warm and sweet herbaceous scent, with a note of whiskey, caramel, and hay
Learn more about perfume notes here. Learn More
+Complimentary Benefits :
Enjoy complimentary standard delivery with all online orders.
+Designated Box :
A designated black box with tied box that suitable for a gift.
+What else you need to know :
Wish card for birthday or anniversary wishes for free. Please hit 'Add gift wrap?' button before you check out.
Thank You.
Biebon Mr Cigar For men perfume
Mr cigar besttt
Best bau dia...menusuk hidung, melekat...nk kata bau org tua² tu, xda sgt la...tp bau dia jrg sy jumpa,..klu ramai org sukakan bau kasturi kijang, sy lebih suka bau mr cigar yg ni.
Mr Cigar
Strong,masculline,dominant,lasting
sesuai untuk bagi hadiah suprise
beli sebagai hadiah untuk adik, dia minat sangat sebab dia suka bau kulit kayu manis, dan wangian dia tahan lama, sembur pagi, malam masih ada bau lagi.