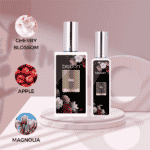 Biebon Bloom For Women perfume
Biebon Bloom For Women perfume
Biebon Bloom is a delicately sweet, floral is made with hand-picked, cold-pressed cherry blossom petals, sweet magnolia and comforting hinoki wood. ============================================ Disclaimer : Japanese Cherry Blossom is a trademark of Bodyshop. Biebon products competes with Japanese Cherry Blossom . It does not use the Japanese Cherry Blossom fragrance and is not associated in any way with Japanese Cherry Blossom or Bodyshop.
Top Note: Cherry Blossom (A fantasy floral note of light fresh blooms.)
Middle Note: Apple (A fresh mouth-watering fruity note, sweet or green and sour.)
Base Note: Magnolia (Waxy lemony tinged floral, fresh and lush at the same time)
+Know your fragrance families. Learn More
+Complimentary Benefits :
Enjoy complimentary standard delivery with all online orders.
+Designated Box :
A designated black box with tied box that suitable for a gift.
+What else you need to know :
Wish card for birthday or anniversary wishes for free. Please hit 'Add gift wrap?' button before you check out.
Thank You.
Biebon Bloom (Japanese Cherry Blossom)
wangi
wangi dan tahan lama. murah lagi.. belaboi2
baunya lembut dan tahan lama..
Japanese Cherry Blossom
Baunya lembut. Saya suka.
Biebon bloom
Hi, I tried biebon bloom and the smell is so good. It can last longer on your clothes. It smell fresh, floral and suitable for morning use