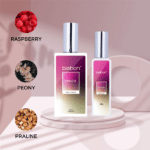 Biebon Sweetie For Women perfume
Biebon Sweetie For Women perfume
Biebon Sweetie is alleged causes the acceleration of pulse; its floral-fruity aromas make the heart beat faster and call you to "lose yourself in our new sexy scent.The composition is announced as a juicy and provocative floral-fruity. The highlighted ingredients include raspberry liqueur on the top, black peony in the heart and sweet pralines in the base. ============================================== Disclaimer: Scandalous is a trademark of Victoria's Secret. Biebon products competes with Scandalous. It does not use the Scandalous fragrance and is not associated in any way with Scandalous or Victoria's Secret.
Top Note : Raspberry – A sweet fruity note with a strong rose facet.
Middle Note : Peony – A fresh floral fantasy note.
Base Note : Praline – A modern synthetic accord with a soft, but intense sweet lactonic balsamic fragrance
+Know your fragrance families. Learn More
+Complimentary Benefits :
Enjoy complimentary standard delivery with all online orders.
+Designated Box :
A designated black box with tied box that suitable for a gift.
+What else you need to know :
Wish card for birthday or anniversary wishes for free. Please hit 'Add gift wrap?' button before you check out.
Thank You.