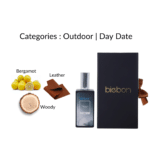 Biebon Voyager For men perfume
Biebon Voyager For men perfume
Opening scent by Bergamot giving a pleasant fresh citrus green scent. As you get to the heart, Biebon Voyager have some vertiver that, so we're going to be a little bit more aromatic and delicate scent. Finally, we have a base which is refreshing again, but still quite musky from herbaceous note and of course earthy scent from patchouli. Biebon Voyager very suitable for daily and night use. Be the first to sniff this scent now! Disclaimer: Explorer is a trademark of Montblanc . Biebon products competes with Explorer . It does not use the Explorer fragrance and is not associated in any way with Explorer or Montblanc.
Top Note : Bergamot – citrusy, bitter & tart, elegant, light note with mild spicy tone.
Heart Note : Vetiver – Vetiver –  it is earthy, woody, green scent
Base Note : Patchouli – Sweet, dark, with an earthy, woody edge.
+Know your fragrance families. Learn More
+Complimentary Benefits :
Enjoy complimentary standard delivery with all online orders.
+Designated Box :
A designated black box with tied box that suitable for a gift.
+What else you need to know :
Wish card for birthday or anniversary wishes for free. Please hit 'Add gift wrap?' button before you check out.
Thank You.
Biebon voyager
Sedap .. baur lebih kurang mcm ori Mont blanc. Ketahan pun not bad la.. kene dengar harga . Thank biebon ❤️
Biebon Voyager (MB Explorer)