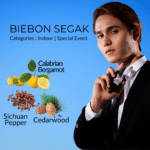 Biebon Segak For men perfume
Biebon Segak For men perfume
Biebon Segak opens with bergamot and pepper. These notes hang somewhere between sweetness, general freshness and freshly laundered sheets. Patchouli becomes subtly smoothed and the scent of woody notes stays close to skin. Disclaimer: Dior Sauvage is a trademark of Christian Dior .Biebon products competes with Dior Sauvage. It does not use the Dior Sauvage fragrance and is not associated in any way with Dior Sauvage or Christian Dior.
Top Note : Bergamot – : citrusy, bitter & tart, elegant, light note with mild spicy tone
Heart Note : Sichuan Pepper – a peppery note coming from the berries of the Zanthoxylum plant. It is aromatic, herbal, spicy, with a citrus touch.
Base Note : Cedar – An soft woody note.
+Know your fragrance families. Learn More
+Complimentary Benefits :
Enjoy complimentary standard delivery with all online orders.
+Designated Box :
A designated black box with tied box that suitable for a gift.
+What else you need to know :
Wish card for birthday or anniversary wishes for free. Please hit 'Add gift wrap?' button before you check out.
Thank You.
Biebon Segak inspired by Dior Sauvage
Biebon (Segak)
Baunya ok. Agak kecewa dengan kualiti botol kerana butang spray telah rosak bila menggunakannya buat kali ke2.
Not for me
I don't know how close this scent to the original, but it is not for me I think