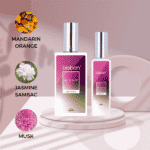 Biebon My Heart For Women perfume
Biebon My Heart For Women perfume
Biebon My Heart is composition incorporates fruity-floral notes on a cedar wood based. This fragrance opens with accords of nectarine, bergamot, peach and sour pear. ============================================== Disclaimer: Tresor In Love is a trademark of Lancome. Biebon products competes with Tresor In Love. It does not use the Tresor In Love fragrance and is not associated in any way with Tresor In Love or Lancome.
Top Note : Pear – A sweet and fresh, aquatic fruity note.
Heart Note : Taif Rose – powdery soft bouquet
Base Note : Virgina Cedar – Soft woody note
+Know your fragrance families. Learn More
+Complimentary Benefits :
Enjoy complimentary standard delivery with all online orders.
+Designated Box :
A designated black box with tied box that suitable for a gift.
+What else you need to know :
Wish card for birthday or anniversary wishes for free. Please hit 'Add gift wrap?' button before you check out.
Thank You.
Biebon my heart (tresor in love) ni wangi sangat2.. Kena dengan citarasa saya.. Srs mmg wangi sangat.. I love it so much.. Saya pilih biebon my heart ni sbb sje nk try skali dh try mmg fall in love teroxx ngn bau nya.. Next time i will repeat this scent again