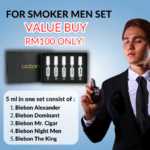 For Smoker Men Set
Hurry! only 2 left in stock.
For Smoker Men Set  is a collection of 5 ml vials of 5 different fragrances from Biebon Men Collection,  designed to allow individuals to sample and explore a range of scents.
These sets typically include 5 fragrances from our top selling Biebon Men Collection, each with a unique scent profile and composition.
In this For Smoker Men Set set consists of :
1. Biebon Alexander – fruity and woody fragrance with notes of pineapple, bergamot, apple, blackcurrant, birch, musk, and ambergris. It is known for its long-lasting and sophisticated aroma, making it a favorite among fragrance enthusiasts and celebrities alike.
2. Biebon Men in Black -It is a perfect blend of Tobacco, Rum, Spices, and Iris. The leather and woody tones. It has so little and yet it has everything.
3. Biebon Mr. Cigar  – a rich and intense scent with notes of tobacco, oud wood, spices, and whiskey. It is known for its deep and complex aroma, making it a bold and sophisticated fragrance.
4. Biebon Harsh – woody and floral scent with notes of iris, cedar, vetiver, and leather. It is known for its elegant and refined aroma, making it a favorite among stylish men.
5.  Biebon The King –  a warm and spicy scent with notes of patchouli, coffee, vanilla, and mint. It is known for its unique and bold aroma, making it a favorite among men who want to make a statement.
+Complimentary Benefits :
Enjoy complimentary standard delivery with all online orders.
+Designated Box :
A designated black box that also suitable for a gift and travel.
+What else you need to know :
Wish card for birthday or anniversary wishes for free. Please hit 'Add gift wrap?' button before you check out.
Thank You.