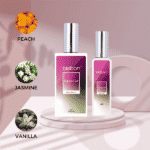 Biebon Purple Cat For Women perfume
Biebon Purple Cat For Women perfume
The composition of Biebon Purple Cat combining top notes of peach, forbidden apple, gardenia and green bamboo with the heart of jasmine, pink freesia and Bulgarian rose and the base of vanilla orchid, creamy sandalwood, white amber, coconut and musk. ============================================== Disclaimer: Purr is a trademark of Katy Perry. Biebon products competes with Purr. It does not use the Purr fragrance and is not associated in any way with Purr or Katy Perry.
Top Note : Peach – A very popular fruity note, fleshy, sweet, nectarous and powdery.
Heart Note : Jasmine – Sweet, white floral, opulent, can be more indolic or greener and fresher
Base Note : Vanilla – Sweet, cozy and comforting scent.
+Know your fragrance families. Learn More
+Complimentary Benefits :
Enjoy complimentary standard delivery with all online orders.
+Designated Box :
A designated black box with tied box that suitable for a gift.
+What else you need to know :
Wish card for birthday or anniversary wishes for free. Please hit 'Add gift wrap?' button before you check out.
Thank You.
Biebon Purple Cat
Bau tahan lama dan sama dengan inspired perfume
sweet and clean
it has sweet, powdery and clean smell i must say.