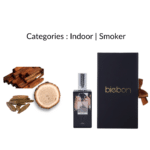 Biebon Oud Wave For Men perfume
Biebon Oud Wave For Men perfume
Biebon Oud Wave – opens with an wet woody accord widely used in designer oud fragrances to give an impression of oud. Disclaimer: Oud Wood is a trademark of Tom Ford. Biebon products competes with Oud Wood . It does not use the Oud Wood fragrance and is not associated in any way with Oud Wood or Tom Ford.
Top Note : Agarwood – a rich, musty woody-nutty scent
Heart Note : Brazillian Rosewood – A deep rich woody note, spicy and floral.
Base Note – : Sandalwood – A classic oriental woody note, milky, soft, sturdy, rich, with a green top note and a satisfying lingering scent.
Learn more about perfume notes here. Learn More
+Complimentary Benefits :
Enjoy complimentary standard delivery with all online orders.
+Designated Box :
A designated black box with tied box that suitable for a gift.
+What else you need to know :
Wish card for birthday or anniversary wishes for free. Please hit 'Add gift wrap?' button before you check out.
Thank You.
bau wood yg x brapa kuat, bau oud tak brapa menyerlah
Biebon (Oudwave)
Baunya ok. Walau bagaimanapun baunya tidak kekal lama sebagaimana Biebon (Mr. Cigar).
Biebon Oud Wave
Ingat perfume Biebon ni biasa2 jer (sama dengan perfume local lain). Bila saya try Biebon Oud Wave ni, WOW! . Saya teruja sbb projection sangat bagus, bau oud yg maskulin dan paling penting tahan lama gilerrr. Tahniah Biebon!