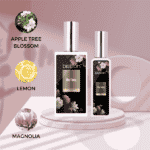 Biebon Miss Young For Women perfume
Biebon Miss Young For Women perfume
Biebon Miss Young is fresh and feminine, clean and gentle. It is not anything complex but it doesn't need to be, really.It opened up really fresh and citrusy but that honeysuckle makes you falling in love with this scent! ============================================== Disclaimer: Tommy Girl is a trademark of Tommy Hilfiger. Biebon products competes with Tommy Girl. It does not use the Tommy Girl fragrance and is not associated in any way with Tommy Girl or Tommy Hilfiger.
Top Note : Rose – feminine, clean and intensely romantic.
Heart note : Taif Rose – a variety of rose that has a faint tea-like tannic nuance to its powdery soft bouquet.
Base Note : Musk – an attractive and sexy scent.
+Know your fragrance families. Learn More
+Complimentary Benefits :
Enjoy complimentary standard delivery with all online orders.
+Designated Box :
A designated black box with tied box that suitable for a gift.
+What else you need to know :
Wish card for birthday or anniversary wishes for free. Please hit 'Add gift wrap?' button before you check out.
Thank You.