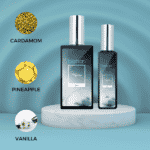 Biebon Vigorous For men perfume
Biebon Vigorous For men perfume
Biebon Vigorous is best fragrance for men. Top notes; cardamom, pink pepper, violet leaves. Heart; sage. Base; crystalized chestnut, Vanilla Essence, Amberwood. Disclaimer: Emporio Armani Stronger With You is a trademark of Giorgio Armani. Biebon products competes with Emporio Armani Stronger With You. It does not use the Emporio Armani Stronger fragrance and is not associated in any way with Emporio Armani Stronger or Giorgio Armani.
Top Note : Cardamom – A sweet resinous aromatic and spicy note with a bitter aftertaste.
Heart Note : Pineapple _ A fresh and juicy fruity note, fresh and slightly metallic.
Base Note : Vanilla – sweet, cozy, comforting, with a pleasing  feeling to it.
Learn more about perfume notes here. Learn More
+Complimentary Benefits :
Enjoy complimentary standard delivery with all online orders.
+Designated Box :
A designated black box with tied box that suitable for a gift.
+What else you need to know :
Wish card for birthday or anniversary wishes for free. Please hit 'Add gift wrap?' button before you check out.
Bau tak best
tak pernah guna GA sblm ni...saya tak dpt nak kenal pasti baunya sebelum beli..kebiasaan guna hugo boss.
Biebon Vigorous inspired by Giorgio Armani Stronger With You
Very expensive smell, I like that