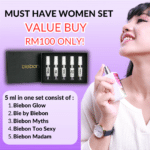 Must Have Women Set
Hurry! only 4 left in stock.
Must Have Women Set  is a collection of 5 ml vials of 5 different fragrances from Biebon Women Collection,  designed to allow individuals to sample and explore a range of scents.
These sets typically include 5 fragrances from our top selling Biebon Women Collection, each with a unique scent profile and composition.
In this Must Have Women set consists of :
1. Biebon Glow –  It is a refreshing and fruity scent that is inspired by the Mediterranean lifestyle.
2. Bie by Biebon –  It is a sweet and sensual scent from Peach notes.
3. Biebon Myths – A captivating aroma that is both warm and spicy, yet also fresh and light.
4.  Biebon Too Sexy – It is a floral oriental scent that is designed to be sensual, feminine, and alluring.
5. Biebon Madam – The fragrance features a combination of citrus, floral, and musky notes, including orange, jasmine, rose, patchouli, and vanilla. The result is a sophisticated and timeless aroma that is perfect for everyday wear, as well as special occasions.
+Complimentary Benefits :
Enjoy complimentary standard delivery with all online orders.
+Designated Box :
A designated black box that also suitable for a gift and travel.
+What else you need to know :
Wish card for birthday or anniversary wishes for free. Please hit 'Add gift wrap?' button before you check out.
Thank You.