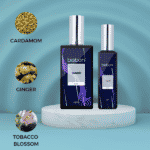 Biebon Tuxedo For men perfume
Biebon Tuxedo For men perfume
Biebon Tuxedo is fresh, woody spicy fragrance. This perfume was built in contrasts that blend together in a perfect harmony. It make the user attractive and seductive. Disclaimer: BLV Pour Homme is a trademark of Bvlgari. Biebon products competes with BLV Pour Homme . It does not use the BLV Pour Homme fragrance and is not associated in any way with BLV Pour Homme or Bvlgari.
Top Note : Cardamom – A sweet resinous aromatic and spicy note with a bitter aftertaste.
Heart Note : Ginger – A spicy fizzy top note, with a pronounced fresh citrus facet and piney nuance.
Base Note : Tobacco Blossom – summary hay and leather scent with dry floral tonality, very inviting scent.
+Know your fragrance families. Learn More
+Complimentary Benefits :
Enjoy complimentary standard delivery with all online orders.
+Designated Box :
A designated black box with tied box that suitable for a gift.
+What else you need to know :
Wish card for birthday or anniversary wishes for free. Please hit 'Add gift wrap?' button before you check out.
Thank You.
Biebon Tuxedo
Bau yang agak keras bila mula spray. tapi kelamaan akan ada bau wangi yang lembut. Bau tahan lama.
Sangat sesuai untuk orang yang tak suka bau Strong.
Bolh repeat botol besar
Biebon Tuxedo (BLV Pour Homme)