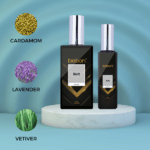 Biebon Suit inspired perfume by Ysel La Nuit de l'Homme perfume
Biebon Suit inspired perfume by Ysel La Nuit de l'Homme perfume
Biebon Suit is a Woody Spicy fragrance for men.
Top note is Cardamom – A sweet resinous aromatic and spicy note with a bitter aftertaste.
Middle note is Lavender – An aromatic floral clean note, with green, fresh spicy, licorice facets.
Base note is Vetiver – it is earthy, woody, green scent.
+Know your fragrance families. Learn More
+Complimentary Benefits :
Enjoy complimentary standard delivery with all online orders.
+Designated Box :
A designated black box with tied box that suitable for a gift.
+What else you need to know :
Wish card for birthday or anniversary wishes for free. Please hit 'Add gift wrap?' button before you check out.
Thank You.
==============================================
Disclaimer:
La Nuit de l'Homme is a trademark of Yves Saint Laurent. Biebon products competes with La Nuit de l'Homme . It does not use the La Nuit de l'Homme fragrance and is not associated in any way with La Nuit de l'Homme or Yves Saint Laurent.
Bibiebon Suit for men
Aroma die smooth ngam utk aktiviti outdoor dan cuaca panas sekarang ini next nanti nk try test yg bau² woody / leather