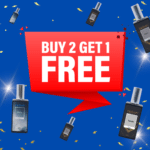 Combo Attractive Men
Combo A :  Biebon Seductive 50 ml + Biebon Rome 50 ml + Biebon Formal 5 ml (Free Gift)
Combo B : Biebon Seductive 50 ml + Biebon Formal 50 ml + Biebon Rome 5 ml (Free Gift)
Combo C : Biebon Rome 50 ml + Biebon Formal 50 ml + Biebon Seductive 5 ml (Free Gift)
+Complimentary Benefits :
Enjoy complimentary standard delivery with all online orders.
+Designated Box :
A designated black box with tied box that suitable for a gift.
+What else you need to know :
Wish card for birthday or anniversary wishes for free. Please hit 'Add gift wrap?' button before you check out.
Thank You.