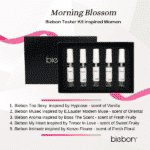 Morning Blossom-Biebon Travel Kit Inspired Women
Morning Blossom-Biebon Travel Kit Inspired Women
Hurry! only 2 left in stock.
Morning Blossom -Biebon Travel Kit Inspired Women consists of 5 ML size of :
1. Biebon Too Sexy inspired by Hypnose – is a sunny, woodsy, oriental fragrance with gourmand nuances. The fragrance features passionflower, which creates both a gentle and a passionate feminine aura.
2. Biebon Musec inspired by E.Lauder Modern Muse – It's a white floral perfume that's fresh, sweet, and a little soapy.
3. Biebon Aroma inspired by Boss The Scent – This floral-fruity fragrance is combined with thick gourmand shades making it an equivalent of the modern perfume scene.
4. Biebon My Heart inspired by Tresor In Love – is composition incorporates fruity-floral notes on a cedar wood based. This fragrance opens with accords of nectarine, bergamot, peach and sour pear.
5. Biebon Intimate inspired by K*nzo Flower – is a vanilla and musk add a finishing touch of fleshy, sweet petals, turning Biebon Intimate into a carefully pieced together floral that is unlike any in nature. Biebon Intimate is a really comforting fragrance, without being overly warm and heavy.
+Complimentary Benefits :
Enjoy complimentary standard delivery with all online orders.
+Designated Box :
A designated black box that suitable for a gift.
+What else you need to know :
Wish card for birthday or anniversary wishes for free. Please hit 'Add gift wrap?' button before you check out.
Thank You.